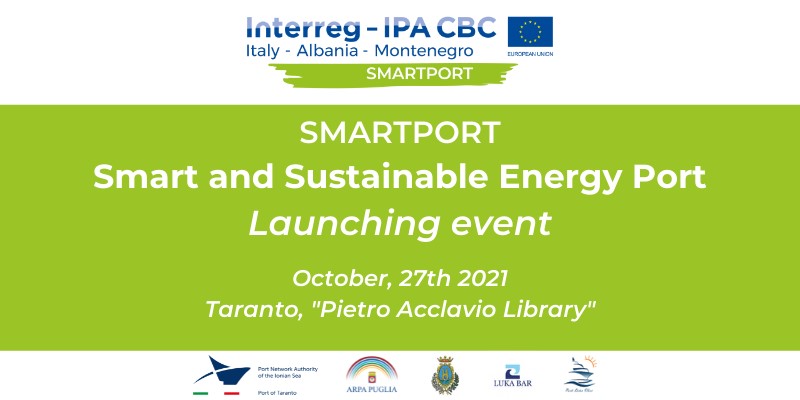 SMARTPORT: launching event in Taranto on 27 October
Overview
On Wednesday 27 October 2021, Port Network Authority of the Ionian Sea – Port of Taranto organises the launching event of the Project "SMARTPORT – Smart and Sustainable Energy Port", funded by the 2nd call of the INTERREG Italy – Albania – Montenegro Programme. The event will be held in Taranto, hosted by "Pietro Acclavio Library".
SMARTPORT Project aims to enhance South Adriatic and Ionian ports' energy profile by introducing eco-sustainable LED lighting system through 6-month long pilot actions and adopting new and efficient energy strategies that, following the European standards, combine the use of renewable energy sources, energy saving, energy storage and smart grid technologies.
The event is structured on two different working sessions: the first institutional session will be attended by Prof. Sergio Prete, President of the Port Network Authority of the Ionian Sea, to illustrate to the press the strategic role of the Port of Taranto as Lead Partner and the relevant contribution of the SMARTPORT Project in the reduction of CO2 emissions and promotion of sustainable energy solutions.
The second part of the event is reserved to the representatives of the Port of Vlora (Albania), the Port of Bar (Montenegro), the Apulia Regional Agency for Environmental Prevention and Protection (Italy) and the Municipality of Termoli (Italy). In this session Mrs. Chiara Campanile, Programme Officer, and the Project Partners will discuss about the strategy to implement next Project activities and increase the impact of actions in the Programme area.
For any further information on the event, please contact Debora Marullo
(debora.marullo[at]port.taranto.it)
HERE is the poster of the event